Introduction of antibody testing against SARS-CoV-2 on June 2nd 2020
We would like to inform you that Unilabs Denmark now offers testing for antibodies against SARS-CoV-2 (serological analysis from serum or plasma). We have evaluated, validated and verified the test kits we use according to the existing quality guidelines. We value safe, sensitive and specific diagnostics and can offer you analytics of very high quality.
Why test for antibodies?
The SARS-CoV-2 (Covid-19) antibody test informs if a person has developed antibodies to Covid-19 as a consequence of an earlier infection.
Unilabs recommends determining immunoglobulin G (IgG).
IgG antibodies against Covid-19 are detectable 2-4 weeks after infection and can identify people who have already been infected, but may have showed only mild or no symptoms, and have potentially developed immunity to further infections.

Important: The presence of IgG antibodies against SARS-CoV-2 does not ensure immunity to further infections. These investigations are currently underway.
Our service to you
Unilabs offers a Covid-19 test service for all, or selected employees, in your company to provide your employees information whether or not they have previously been infected with Covid-19. 
The test is a simple blood test and it will be performed at your workplace, making it convenient for your staff to get tested without losing valuable work time.
If you wish to order our service for the employees in your company, association or organization, contact us at kundeservice.dk@unilabs.com for more information.
How we work
Our staff are dedicated to ensuring a professional, positive and safe experience for you and your employees. The process for the test is outlined below but can be customized to your needs.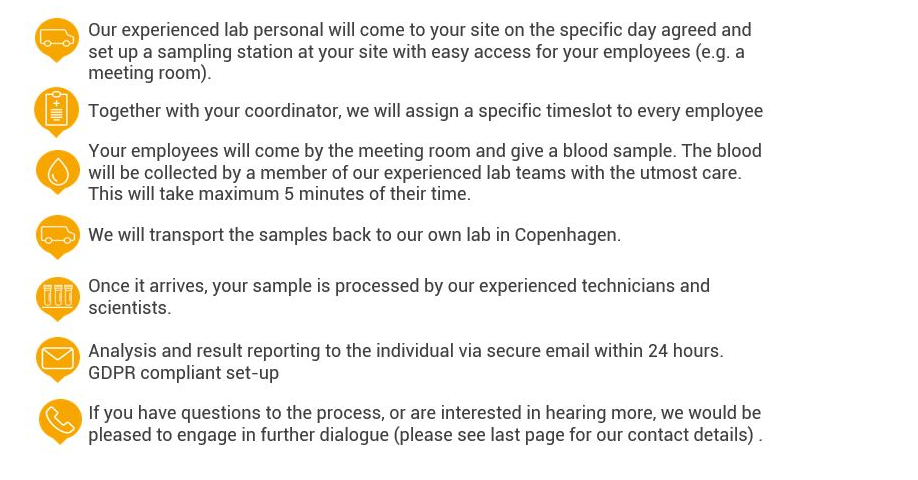 The test has been clinically validated in a professional and accredited laboratory at our Unilabs premises in Copenhagen, and will be performed on a blood sample with a Euroimmun ELISA kit. The Euroimmun kit has been demonstrated to  Specificity of 98,5% and a Sensitivity 98% 4 weeks after symptom onset or a positive PCR test for SARS-CoV-2.
 
Interpretation:
The presence of antibodies against SARS-CoV-2 does not ensure or protection against reinfection. Studies are ongoing and confirmation of immunity or the immune status is currently not an indication for antibody testing.